The Enduring Enigma of Mata Hari
In October 1917, the woman known throughout the globe as Mata Hari was executed on espionage charges by a firing squad at Vincennes on the outskirts of Paris. Born Margaretha Zelle (1876) in Leeuwarden, Holland, in 1905 she reinvented herself as the exotic dancer Mata Hari, trading on the fascination with colonial cultures at the fin de siècle. Although history has provided little evidence of her spying, Mata Hari's French prosecutors condemned her as 'the greatest female spy the world has ever known', a vamp, a courtesan and a divorcee who had caused the deaths of 50,000 allied combatants.
On the centenary of Mata Hari's death, this event combining talk and performance considers the iconic legacy of this enigmatic woman who challenged the gendered expectations of early-twentieth-century culture.
The event will be presented by:

Julie Wheelwright
Julie Wheelwright (PhD) has been a senior lecturer at City, University of London since 2007, where she is programme director of the MA Creative Writing (Non-Fiction). A former journalist, she is the  author of three books on women's history, Amazons and Military Maids: Women Who Dressed as Men in Pursuit of Life, Liberty and Happiness (Pandora Press: 1989), The Fatal Lover: Mata Hari and the Myth of Women in Espionage (Collins and Brown: 1992) and Esther: The Remarkable, True Story of Esther Wheelwright (HarperCollins: 2011). She is the author of several book chapters and academic articles on subjects related to women and warfare, transgressive women and, more recently, on the ethics of literary journalism. She has written for the Guardian, The Times, Scotland on Sunday and History Today, among others, and produced and presented documentaries for the BBC and for Channel 4 in the UK. Her current research interests include trauma writing and memory, the ethics of historical representation as cultural form, and biographical accounts of transgressive women. 

Aletia Upstairs 
Aletia Upstairs is a performing artist, cabaretist, singer-songwriter and vintage songstress in the third year of a PhD based on Performing Archives. Her practice involves (auto)biographical, verbatim, one-to-one and participatory performance as well as performing archives. She investigates subjective archives and examines individual memories and mementos in performance pieces that are intercultural and interlingual with traces of original music, poetry and puppetry. She has produced several cabaret shows as well as a solo album Possibility and an EP entitled Catch Me When I Fall. She regularly presents her work at academic conferences and symposiums. In 2016 her work Emballage was awarded the Kantor Demarco Award at the Edinburgh Fringe Festival and she performed at London Pride. She has recently been selected as a 2017 Jazz Idol Finalist and will debut a new cabaret collaboration Bilbao is not in Spain on 5 April at the Royal Vauxhall Tavern.
Her Mata Hari cabaret investigates and illuminates how Margaretha Zelle re-invented herself as Mata Hari: woman of mystery, the first exotic dancer of Europe, and a temptress who entertained men and how Mata Hari's naivety ultimately led to her downfall.
Ada Kan
Ada Kan is a classically trained pianist and accompanist from the Royal Academy of Music and the Royal Northern College of Music. Versatile and experienced, she has performed cabaret and jazz in venues across London such as Ronnie Scott's Bar, Wilton's Music Hall, Soho Theatre and St James Theatre.
Image credit: Mata Hari 1910 - Pedro Ralha
Shoreditch Bridge Portraits
Shoreditch Bridge Portraits is a series authored by John Perivolaris.
This discussion and screening will address the issues raised by 'Shoreditch Bridge Portraits' and the role of photography and the photographer in twenty-first century cities.
The 300 images that comprise this series of photographs present a portrait of one location in a great city at a significant juncture in London's history. Photographed under a concrete railway bridge in Shoreditch since 2011, the images that make up the series capture passers-by who are both anonymous and transient, in a fleeting moment as they move between places. This moment of stillness, particularly in the enormity of a city, is crucial and raises several questions, such as: "Where do we find stillness in cities and what does stillness mean in our continuous transit through, or between, public, marginalised, and increasingly corporatised urban spaces?"
Then, there's the bridge itself, heavy in both material and shadow, weighing both literally and metaphorically over the local landscape. These photographs are all about the taking of place, both in terms of the photographer's artistic appropriation of a utilitarian urban space and the performative interaction between him and the subjects of his photographs.
Presenters:-
Prof Giuliana Pieri (Introduction)
Professor in Italian and the Visual Arts, Head of the School of Modern Languages, Literatures & Cultures (Royal Holloway, University of London)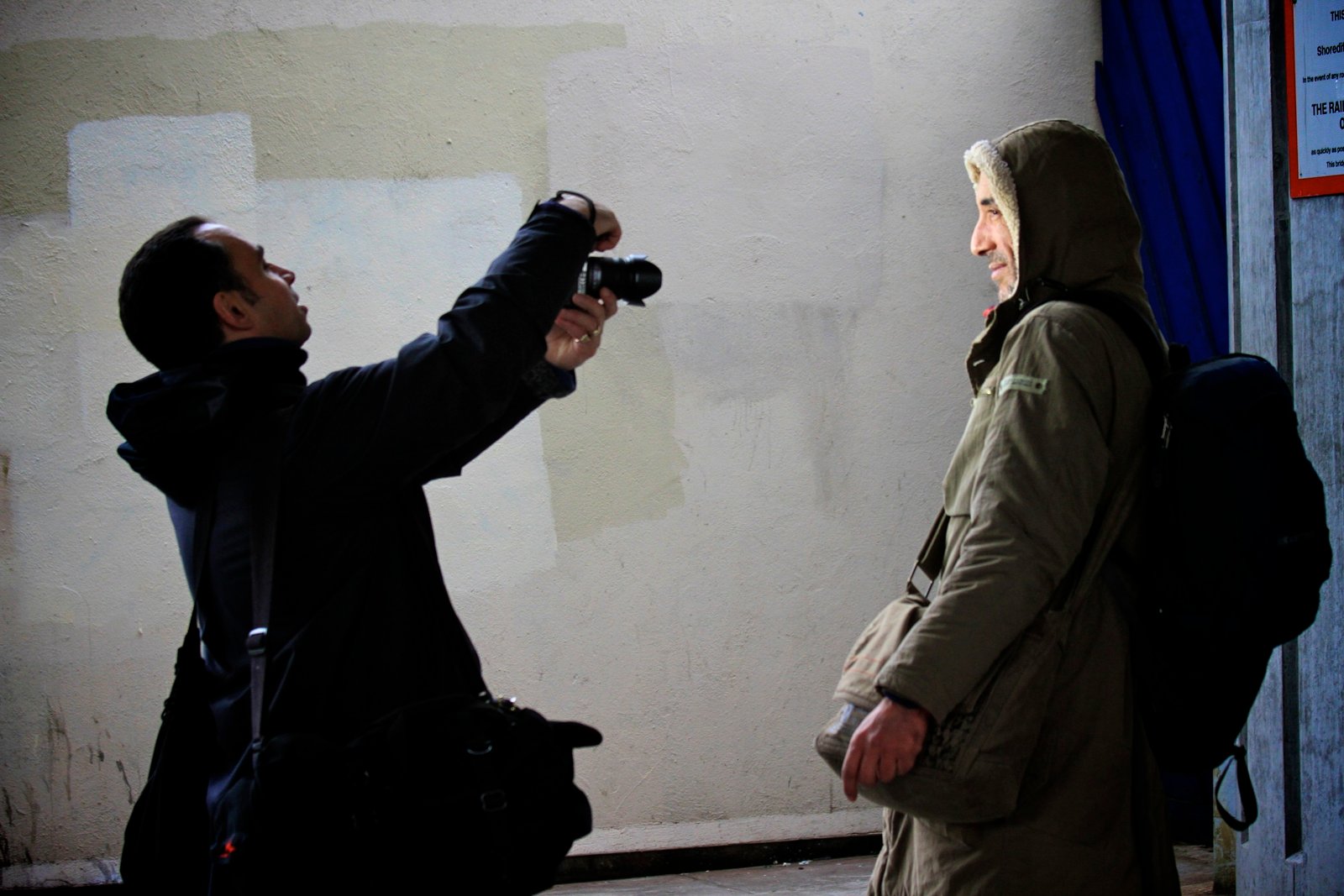 Dr John Perivolaris (Photographer /series author)
John Perivolaris has received commissions to work on major photographic projects in the UK and internationally. Often collaborative, his projects use photography, text, and related media to reflect on diasporic states of being. Revealing how places are layered by time, his work is concerned with how the past is regenerated, the existential use of knowledge and memory, and how meaning is formed through migration, travel and our attachment to specific locations. His last exhibition, entitled City of Ghosts: A Dialogue with George Washington Wilson, was shown in the gallery of the Sir Duncan Rice Gallery, University of Aberdeen, between 15 October 2015 and 21 February 2016.

Dr James Kent (Organiser/Discussant)
Lecturer in Hispanic Studies (Royal Holloway, University of London)
James Kent is a Lecturer in Hispanic Studies at Royal Holloway, University of London (September 2015-present). He has taught film, Latin American & visual culture studies at various institutions across the UK and abroad at the Universidad de la Habana, Cuba. He has curated exhibitions of his own photographic work both in the UK and Cuba and his Arts Council-funded exhibition Memories of a Lost Shark toured in 2013-14.

Dr Cecilie Sachs Olsen (Discussant)
Lecturer in Cultural Geography (Royal Holloway, University of London)
Cecilie Sachs Olsen is a lecturer in cultural geography at Royal Holloway, University of London, and the co-founder of the urban performance collective, zURBS. Her work is practice-based and revolves around developing creative methods for urban research and exploring how artistic practice can be used as a framework to analyse and re-imagine urban space and politics.
Image credits:
Main promotional image: John Perivolaris
James Kent image: Marissa Chen
John Perivolaris image: James Kent

Tallis Aforethought: Using historical techniques to access new audiences for contemporary classical choral music
The event is aimed at opening up a discussion about the accessibility of contemporary classical music and is part of a larger UWL initiative focused on the London & SE 21st Century Music Practices Research Network set up by Simon Zagorski-Thomas and involving many TCCE partners (over 70 academics from more than 20 HEIs).
Francis Pott is Professor of Composition at London College of Music [LCM], within the University of West London [UWL]. Here he interrogates the ways in which familiar and well established composition techniques – and counterpoint in particular – can be used in contemporary composition, and aims to use them to provide a 'way in' for non-specialist audiences.
Minimalism, by creating a new compositional language out of the repetition of popular music and Buddhist chanting, has been hailed as an accessible face of contemporary classical music. At the same time, within the world of contemporary choral music, there has been a popular wave of pieces that retain a more traditional tonal approach to harmony, from composers such as Eric Whitacre and Paul Mealor.
Francis has taken a different path, using counterpoint to create a series of contemporary pieces that have been widely adopted by small as well as larger choirs. A short choral carol setting from 2009 has now gone to six commercial recordings, with the most recent (2016, by the groundbreaking UK ensemble, Voces8 ) attracting 145,000 'hits' on Facebook when the group posted a video of their performance from London's Gresham Centre.
Francis will play some recorded examples of his own and other works as part of a wider discussion about the ways in which counterpoint retains its validity and fruitfulness within modern practice, while emphasising a line of continuity from much earlier models. He hopes to blur rather than clarify the ways in which we perceive one thing as 'old' and another as 'new'.
The talk by Francis will be followed by an 'armchair' interview in which he will be questioned by Gareth Wilson, currently Lecturer and Director of Chapel Music at Girton College, Cambridge, and a successful composer in his own right.

Professor Francis Pott and interviewer: Gareth Wilson (Lecturer and Director of Chapel Music, Girton College, Cambridge)
Image by Isabel Pott
Biog Image by Rumen Mitchinov Photography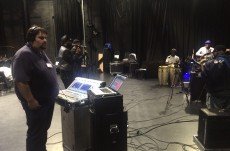 Immersive Music Experience – a discussion
The current developments in virtual reality are focused on the use of headsets such as the Oculus Rift but the 'Immersive Music Experience' project, by researchers at University of West London, aims to create a simpler but more share-able immersive experience that would be more suitable for the museum environment.
Could this form of presentation of musical performance have far reaching application as an educational tool?
We would like to invite you to be part of the conversation as Sara McGuinness and Simon Zagorski Thomas present and discuss the outcomes of their first pilot recordings for the 'Immersive Music Experience' project.
More about the pilot recording…
As a pilot, Sara and Simon recorded a performance by the seven piece Congolese-Cuban fusion band, Grupo Lokito. The performance was video recorded with a 360° camera so that it could be projected on a hexagonal arrangement of screens with different members of the band seen on different walls. There was a separate speaker used for each of the musicians, placed next to their video image with only the sound of their own instrument (or voice) coming out of that speaker. Visitors walked around the space 'mixing' the track for themselves by adjusting their position amongst the speakers. They could thus focus on a single instrument or listen to the ways that they interact with each other. The platform was aimed at both the presentation of anthropological documentation of musical practice in museum spaces and music education.
The discussion panel will include:
Sara McGuinness
Sara McGuinness specializes in practiced-based research, performance, and recording, with a focus on Congolese and Cuban music. She combines a career as a musician with her academic work primarily at the London College of Music and the School of Oriental and African Studies. Through her extensive work with musicians around the world, Sara actively explores the inextricable links between music, culture and identity.
Simon Zagorski Thomas
Simon Zagorski Thomas is a Professor at the London College of Music, University of West London. He is a director of the Art of Record Production Conference and co-chairman of the Association for the Study of the Art of Record Production. His publications include The Art of Record Production (co-edited with Simon Frith) and The Musicology of Record Production. He has also worked for 25 years as a composer, sound engineer and producer with artists such as Phil Collins, London Community Gospel Choir, The Courtney Pine and the Balanescu Quartet.
Jimmy Martinez-Hernandez
Jimmy Martinez-Hernandez; is a Cuban bass player, working extensively on the UK and international scene. He teaches performance and ensemble skills both in the field of Cuban and Popular music.
Image by Simon Zagorski Thomas
Jack the Ripper – Shadow Over Whitechapel – a playable documentary in virtual reality
What if we could give audiences a documentary story they could remember with their entire body and not just with their minds? An experience so intense that it feels authentic… An immersive experience so memorable that it could make you 'feel' hunger…
Jack the Ripper – Shadow Over Whitechapel is the ultimate cold case.
It's a prototype for a VR game and a social and historical documentary wrapped up as one. We're working on how to create acceptable templates for merging archive and talking heads (traditional factual production conventions) within a game framework in VR. In the process the player learns about Victorian Society, how they treated immigrants, refugees and women. We experience first hand what poverty meant to the millions who lived and worked in doss houses. We learn about the state of forensics, law, and journalism of the era. In this way the user discovers that many things haven't changed, as we face similar societal prejudices 125 years on.
Each new generation produces its own form of realism or social reality and its own regime of truth telling. The draw of new technologies is often driven by the next generation, who respond to new forms of storytelling that inevitably challenge established journalistic ways, norms and values.
This brings risks, but, has any generation been comfortable with how it recreates 'the real'?
We will ask:
How do we make journalism meaningful to generation Z?
How do we best use new technologies at our disposal, especially virtual reality?
Can journalism's remediation into immersed worlds help make it more meaningful?
Can it reinvigorate flagging audiences, especially amongst the young acculturated to the click bait of social media?

Talk and demonstration led by Professor Janet Jones, London South Bank University.
With special thanks to Co-producers: Auroch Digital
Image credit: Auroch Digital
Why Is Popular Music Different?
How does the slippery pitch of Marvin Gaye's voice suggest particular types of emotion? How do we interpret the 'abstract' electronic sounds of EDM?
What makes the production of a recording sound 'expensive'?
Most of the tools of traditional musical analysis are based on notation and are concerned with studying composition rather than performance. With popular music, the interest lies more frequently in the way performers slide on and off a pitch or how they vary the tone colour of their instrument or voice rather than in the harmonic structure that is central to classical analysis.
What kinds of analyses can be devised to study the unique characteristics of popular music styles? Using several examples, Professor Zagorski-Thomas will go through a range of features that need to be understood in order to make the study of popular music as rigorous as its classical counterpart.
Simon Zagorski-Thomas 
Simon Zagorski-Thomas recently organized a London & SE research network on 21st Century Music Practice that involves many of the TCCE partners in a group of over 20 higher education institutions. He is a professor at the London College of Music, University of West London. He is the founder and co-director of the annual Art of Record Production Conference and co-chairman of the Association for the Study of the Art of Record Production (www.artofrecordproduction.com). His publications include The Musicology of Record Production and The Art of Record Production (co-edited with Simon Frith). Before becoming an academic he worked for twenty-five years as a composer, sound engineer and producer with artists as varied as Phil Collins, Mica Paris, London Community Gospel Choir, Bill Bruford, The Mock Turtles, Courtney Pine and the Balanescu Quartet.
Image courtesy of London College of Music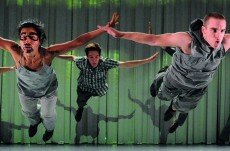 Jasmin Vardimon's Dance Theatre
To celebrate the launch of the book Jasmin Vardimon's Dance Theatre: Movement, Memory and Metaphor, by Libby Worth published by Routledge, acclaimed choreographer, Jasmin Vardimon and Libby Worth, Senior Lecturer in Theatre Practice at The Royal Holloway University of London, in conversation with Geoffrey Colman, Head of Acting at Royal Central School of Speech and Drama.
In a lively and multi-layered reflection on the devising and training processes of a choreographer in the midst of her practice, Colman will discuss the work with author and subject.  Together they share their insights into their collaboration and the complex writing process they undertook to bring the book to fruition.  They also discuss Vardimon's vibrant, evolving choreographic practice from the seeds of an idea through to the completion of a work.
Jasmin Vardimon
A leading force in British dance theatre for nearly twenty years, Jasmin Vardimon has built a reputation for challenging, exciting and visually stunning dance.  Formed in 1997, Jasmin Vardimon Company enjoys critical acclaim and sell-out performances all over the world. Jasmin Vardimon as also a named practitioner on the A Level syllabus, so this is a great opportunity for A level teachers and students to hear her talk about her work, and contribute to the discussion.
Libby Worth
Libby Worth is a movement practitioner and scholar with research interests in dance theatre, site specific performance and performer training.
Geoffrey Colman
In addition to his work at Royal Central School of Speech and Drama, Geoffrey Colman has worked alongside Vardimon as acting coach on her works Justitia, Park and Pinocchio.
Image credit: Flying dancer – Alastair Muir

Ravensbourne
Loughborough University London
London South Bank University
London South Bank University – School of Arts and Creative Industries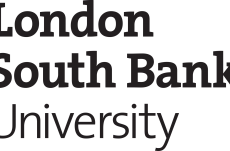 London South Bank University
The Exchange
Somerset House
City University London
City University London is an international university in central London. It has world-leading strengths in the arts, including journalism and music; and interdisciplinary links with social sciences, informatics and business.
Guildhall School of Music & Drama
The Guildhall School of Music & Drama is one of Europe's leading conservatoires, offering musicians, actors, stage managers and theatre technicians an inspiring environment in which to develop as artists and professionals.
King's College London
King's College London is one of the oldest and largest colleges of the University of London: a major multi-faculty university institution, with a leading position in UK Higher Education and a world-wide reputation for research, teaching, and innovation.
Middlesex University

Royal Holloway
Royal Holloway's Faculty of Arts contains a unique combination of creative arts and humanities disciplines, making them one of the strongest centres for creative arts in the country.

Royal Central School of Speech and Drama
Central is a federal college of the University of London, established in 1906 and recognised world-wide as a provider of conservatoire Higher Education in dramatic arts practice.  It has three undergraduate degrees and a portfolio of specialist postgraduate courses.