Artists in Tech Cities
The Artists in Tech Cities panel discussion will address the issues and forces at play in East London as the technology sector is rapidly developing in areas that have been characterized by large pre-existing numbers of artists, from Shoreditch to the Hackney Wick area. It will be of interest not only to those who may have experienced these recent transformations, but also to those interested in policy making and the narrative of "regeneration through creativity".
While the convergence of technology clusters and artists' communities has been much welcomed by policy makers in search of urban development strategy, the research underpinning this discussion highlights the challenges faced by existing creative and local communities faced with spiralling real estate costs, diminishing space availability and increased exposure to corporate forces.
This research was undertaken by The Institute for Media and Creative Industries at Loughborough London and East London-based arts organisation SPACE.  Both organisations will have facilities at Here East, an ambitious new innovation centre in the Olympic Park, and share a deep commitment to the conditions for creative freedom for the local and creative community.
Chair:
Tom Campbell, Specialist, Creative Industries Innovate UK
Panelists:
Anna Harding, Chief Executive, SPACE Studios
Shin Joung Yeo, Lecturer in the Institute for Media and Creative Industries, Loughborough University London
Will Jennings, Artist
Kirsty Styles, Head of talent and skills, Tech North
Polly Hunt,  Director of Development and Communications, Studio Wayne McGregor
Image credit: Toby Miller, Loughborough London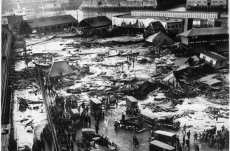 Of Slime and the City: The Boston Molasses Disaster of 1919
At 45 minutes past midday on January 15th 1919, a 25 foot high and 160 foot wide wave of molasses engulfed the city of Boston's waterfront. A tank recently constructed near the harbour to contain the 23 million tonnes of industrial syrup had burst, the rivets that held the huge curved steel sheets pinged cartoonishly off before the sides gave way entirely, the dark gloop gushing out, carrying parts of the tank with it, bending and blurring the world around it into weirdness, plunging the streets and buildings of north Boston into sugary, viscous darkness. 21 people drowned.
I will re-enact this surreal catastrophe using a scale model of the tank (including its contents) and the surrounding area. I will, then, in the talk that follows, trace the sensual history of this event, of the peculiar moment when urban environments appear to turn gloopy. Drawing links between the phenomenology of Sartre and Levinas, anti- climb paint and Ghostbusters II, this talk will look to historicize and theorize the surreal excitement of imagining this moment.

Freddie Mason
Freddie Mason is a TECHNE funded doctoral candidate at the Royal College of Art, researching the history of viscous materials since industrialization.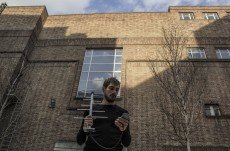 Following Invisible Lines: A speculative design workshop for GPS futures
We use GPS every day, but how much do we know about the satellites and systems which make it work?
In this half day workshop we will use Speculative Design to explore the back end of GPS. In Speculative Design we create objects and services for different possible worlds, thereby critiquing the ways they are used today. In the workshop, you will respond to a design brief for a fictional, GPS-themed scenario. You don't need any experience in design to join this workshop, all skill sets are welcome, just bring an open mind and a willingness to explore and collaborate.
Workshop will be lead by Christopher Wood and Soomi Park from the Media & Arts Technology Programme, Queen Mary University of London.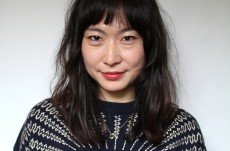 Image credit: Soomi Park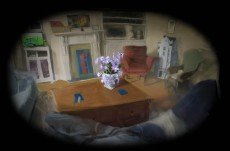 Natural Media Workshop
This workshop will examine what our current imaging and sensing technologies do to our perception.
We will examine, using practical examples, the potential to develop more 'natural' media and technologies by broadening the focus of attention to the whole visual, auditory, tactile and sensual field. The aim is to re-incorporate peripheral awareness into our experience using these multiple sense inputs.
We are living in an increasingly mediated world. As a result, we are becoming dependent on digital systems that create narrow perceptual channels and bottlenecks. For instance, current mobile technology predominantly narrows our focus and makes us oblivious to what is going on around us. We have a vast perceptual bandwidth, which is gradually being shut down and eliminated by the predominance of screen-based interaction.
Natural media aims to uncover the mechanisms of what actually happens when we move from direct experience to living through photographs, paintings, films and VR. However, it is important to focus on more than one predominant sense (vision) in order to start realigning and potentially redesigning our perception using Natural Media.  As a result this workshop will also explore what is the peripheral space of the other senses such as hearing, touch, taste and smell and in addition explore artificial senses such as the recently released 'North Sense'.
We will examine whether perceptually Natural Media and associated technologies have a positive impact on Cognition, Memory, Attention Deficit Disorder, Empathy, Wellbeing, and Body Dysmorphia.
Workshop led by:
Carl Smith, Director Learning Technology Research Centre (LTRC), Ravensbourne
with
Nick Lambert,  Ravensbourne
Jazz Rasool, LTRC, Ravensbourne
Robert Pepperell,  FOVOLAB, Cardiff Metropolitan University
Tony Langford, FOVOLAB, Cardiff Metropolitan University
 Image: "No one ever painted exactly what they saw", Interactive computer animation by Robert Pepperell and Alistair Burleigh, © Fovolab 2017
Practice-Based Research Degrees in the Arts: Problems and Prospects
MICHAEL CRAIG-MARTIN: "There are hundreds of kids in Britain doing PhDs – PhDs! – in fine art….It could not be a worse situation"

(Baldessari and Craig-Martin 2009, 45-6)
The last decade has seen significant growth in the number of practice-based or practice-led research degrees offered by universities and art schools. This event will examine the problems and prospects for such courses. How do students and supervisors understand the relationship between the practice and thesis components of the project? How should they do so? What are the broader effects on artistic practice of training within such a framework? Ultimately, are practice-based research degrees fit for purpose?
Speakers to include:
Dr. Jonathan Clark (Head of Research, Trinity Laban Conservatoire)
Dr. Jane Wildgoose (Artist, Researcher, Broadcaster)
Chair:
Dr. Sacha Golob (King's College London, Philosophy and Director CPVA)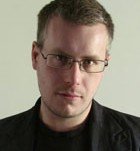 This event is brought to you by The Culture Capital Exchange in collaboration with the Centre for Philosophy and the Visual Arts @ King's College London
Image: The Wildgoose Memorial Library © Jane Wildgoose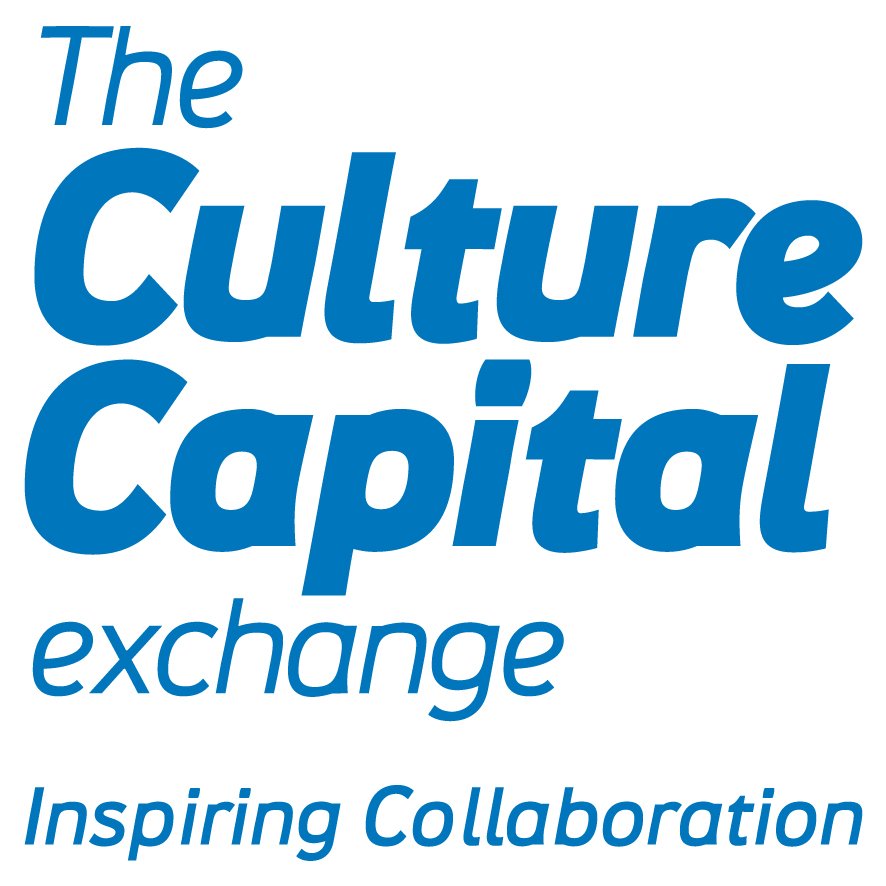 Welcome to…Aldwych
"Welcome to…" is a series of guided walks led by a man who knows little or nothing about the location in which the walk takes place. "Welcome to Aldwych" invites local inhabitants to construct a guided-walk of their own area. Bragging, confessions, digressions, ear-bendings, facts & figures, hidden histories, information, opinions, picaresque peregrinations, rants, raves & reminiscences, shaggy-dog stories, tall-tales and urban myths combine to present an alternative narrative to the 'official' guided walk or tour.
Walk Leader: Mark Hunter
(Deputy Dean, Faculty of Arts & Creative Industries, Middlesex University London, co-founder of the Walking Artists' Network and Principal Investigator of the AHRC-funded 'Footwork – the Walking Artists Network as Mobile Community')
Image: © Walking Artists Network
Going to things together: Audiences, Sociability and Enriching Cultural Experience
In this 'Going to things Together' workshop,  Professor John Sloboda (Guildhall School of Music and Drama) will chair a discussion about going to cultural events, providing a timely opportunity for cultural organisations and events organisers to engage in a discussion about the outcomes that audiences expect from going to ticketed cultural events.
His recent research shows that the opportunity for warm and productive connections to the other event attenders is a key factor, sometimes even more important than the cultural offering itself.  How can cultural providers enhance their offering to facilitate the benefits that people get from encountering each other, and – in the process – deepen and widen their audience engagement?
Discussants include:
Annette Richardson (Somerset House), Peter Stepman (Founder of Meetups: Buffs London, Buffs LA, Curzon [Cinema] Cult) and Rachel Dickson (Ben Uri Gallery)
Image: Somerset House, courtesy of Somerset House Trust
Reciprocal structures: conversations in light and sound
This immersive performance, inspired by conversations with physicist Sir Michael Berry, will explore the connections between waves and rays in light and sound. This new approach to composition was developed during a TCCE-led Exchange funded project collaboration between composer Dr Scott McLaughlin and glass artist Dr Shelley James.
The performance will be followed by a chaired discussion, by Dr Kate Dunton (Research & Education Manager,  Cultural Institute, King's College London) to explore insights from this project for interdisciplinary practice and knowledge exchange.

Dr Shelley James, glass artist and 
Dr Scott Mclaughlin, composer, Leeds University
With thanks to TCCE, Sir Michael Berry and Rex Lawson

Image credit: 'Reciprocal structures: caustics 2 glass and light' by Michael Coldwell 2016
Shelley James portrait image by Elizabeth Loudon 2016
Scott McLaughlin portrait image: by Michael Coldwell
Impossible Partnerships: Distributed Data and the Science of Art
The Culture Capital Exchange, in collaboration with The Cornelius Arts Foundation, and DataKind UK invites you to a roundtable discussion about distributed data in relation to the science of art and the challenges of gathering robust and enough evidence to make the case for art impact.
The Cornelius Arts Foundation (TCAF) seeks to understand the ways art can have a transformative effect on people's lives and in society. The charity is mostly interested in drawing out the intrinsic rather than the instrumental value of art.
DataKind UK: a registered charity dedicated to using data science for social good. We believe that the same advanced algorithms and data science techniques that the private sector use to increase profit can be used to help charities have a greater impact. We bring together teams of pro bono data scientists with social change organisations to work on projects designed to move the needle on tough social issues.
The discussion aims to explore new ways of coordinating, scoping and substantiating research, in particular in the context of distributed knowledge and networked frameworks bringing together organisations and initiatives in direct contact with the public.
Potential topics to be discussed include:
How can one establish a continuum between the data collected by non-scientists and scientists?
What kind of shared protocols and tools are needed to facilitate data integrity and readiness to scale up?
How to apprehend cultural diversity, which brings more layered and complex sets of data, in the context of data integration?
What can be learnt from precedents such as Open Source, the sharing economy, connected hubs or collectives?
How can IP be protected while allowing the cultural sector to benefit from the scalability of shared data?
Can blockchain solutions be applied to open and interconnect data sources?
This Impossible Partnership will be led byMarianne Magnin, TCAF Board Chair, and Emma Prest, General Manager, DataKind UK. This gathering will be of interest but not limited to the enthusiasts of the social sciences, art, knowledge management and new forms of collective organisations. This includes ethnographers, sociologists, economists, statisticians, data scientists, information technologists…
Impossible Partnerships: a series of small-scale, informal, convivial meetings, developed and curated by TCCE to boost the collaborative potential of projects and topics, in order to support new networks between research and the creative sectors. Throughout the year, we map common trends among researchers and entrepreneurs, tackling topics from a variety of angles. As a result, we foster aggregate of collaborative networks will thrive, develop across institutions, and reach out beyond the academy.
The Rise & Fall
An actor meets with theatre-maker Shireen Mula only 1 hour before the performance begins. Only then are they given any information about the solo show that they will star in.
How do we perform under pressure? When everyone is watching? Everyone is watching. Are my hands shaking or is it just in my head?
A show that questions how we physically and mentally keep on going in increasingly difficult times; how do our minds, voices and bodies respond to tiny wins as well as repeated epic failures.
The Rise & Fall was seed-commissioned by Ovalhouse, and developed with the support of Old Vic New Voices and London South Bank University's inaugural New Digital Storytelling Research Grant.
Shireen Mula is a playwright and theatre-maker. She's worked in London, regionally and internationally creating work for audiences of all ages. She was an Associate Artist at Ovalhouse and Playwright-on-Attachment at the Royal Court Theatre. Her plays include: Soon Until Forever (Theatre503), Same Same (Ovalhouse & fanSHEN) and Nameless (Arnolfini). Shireen is a lecturer at London South Bank University.
Image credit: Photographer Golda Rosheuvel
Data Recovery – Mobiles and their role in story-telling, memory and emotion
A 60' presentation and Q and A with Victoria Mapplebeck, chaired by Pratap Rughani (UAL's London College of Communication) 
Most people in Europe have had a mobile phone since the late 90's.  There are now more mobiles than people on the planet. Almost seamlessly, our phones track, trace and archive our lives. We now have access to a seemingly infinite archive of our emotional pasts. What affect does this word-perfect access to our past have? Is this reflection useful – not just nostalgia but a way of exploring the past in a more powerful way than ever before?
Victoria Mapplebeck will screen her award winning Film London smartphone short, 160 Characters. Shot entirely on an iPhone 6, 160 Characters brings to life the secrets buried in a vintage Nokia, a story that unfolds in just 100 texts and tells the story of how two people, meet, date, break up and deal with an unplanned pregnancy.
160 Characters was shortlisted for the Innovation Category of the 2016 AHRC Research in Film Award and has received over 158,000 hits since it received a Vimeo Staff pick in November 2016.  160 Characters recently won the Best Documentary Award at the 2017 Short of the Week Awards.
Victoria will also introduce TEXT ME,  her award winning interactive arts project written, directed and produced in partnership with BALTIC Centre for Contemporary Art in Newcastle.  TEXT ME is a live and online platform in which the audience, can collect, curate and share stories from their digital past.These stories are added to a growing archive of digital memories.
TEXT ME was developed with Creativeworks London and in 2014 won The Merging Media Prize for Best European Cross platform Project and The 2014 Pixel Lab Prize. In November 2016, the six week TEXT ME exhibition opened at BALTIC Centre for Contemporary Art. TEXT ME is now a touring show and will travel to La Gaîté Lyriquein Paris in Summer 2017.
Victoria will discuss how new technologies can be used to enhance documentary access and storytelling and the ways in which the TEXT ME audience can submit their own digital memories to this international storytelling project.
Victoria Mapplebeck
Victoria Mapplebeck is a Senior Lecturer at Royal Holloway, University of London

For more info please go to the TEXT ME website: https://www.textmeproject.com
Special thanks to Royal Holloway, University of London and Film London
Image: All copyright with Victoria Mapplebeck

Data Walking
This walk, led by David Hunter (Associate Senior Lecturer, Graphic Design, Ravensbourne) seeks to engage and empower participants on data gathering, data literacy, and data visualisation and uncover topics of importance and test experimental methods.
'Data Walking' is an ongoing project collecting environmental data while walking, to build a rich picture of that area over time. In this session, participants can use sensors and micro-controllers, smartphones, cameras, and pen & paper to gather data and then create maps, charts, data experiences, or their own artistic works to represent the area and the process of the project.
We will quickly acquaint ourselves with some simple equipment and then head out walking around Somerset House and the Thames for about an hour. After the walk we can take a look at the data, quickly visualise it, and discuss what we find.
This might be of particular interest to designers, data visualisers, architects, and anyone with an interest in discovering urban spaces or walking. No previous experience or technical expertise is required, only a willingness to explore and understand the world around us!
All data capturing materials provided. Please wear clothes appropriate to the weather.
Image by David Hunter
Resilience Workshop
For many people working in the cultural and creative sectors, the sense of having to be ever more inventive and creative to survive uncertain times is by no means new, but updating skills, knowledge sets and approaches to adapt to new operating environments does also invariably take time.
What do you see as the main threats to your organisation's survival, as well as the main opportunities to help it to thrive and sustain itself in the current climate? What are you doing in response?
In this workshop, we will draw on notions of resilience from diverse disciplinary perspectives to develop and share thoughts on possible responses to current challenges for arts and cultural organisations from ongoing economic, social, environmental and technological change. We will also encourage participants to engage in thinking creatively about how best to exploit their untapped and/or under the radar assets.
The workshop will be led by Dr Sara Jones (Cass Business School),Dr Canan Kocabasoglu-Hillmer, Dr Evangelia Kalyvianaki and Rachel Driver.
Image: pixabay.com 


"All the world's a stage": making Shakespeare relevant in the digital age
The Royal Shakespeare Company and Ravensbourne College have teamed up to provide a unique outreach programme that 'live streams' to schools worldwide, a mix of stage action and interactive dialogue with the actors and production team.
In this session CEO of Ravensbourne, Professor Linda Drew and Jacqui O'Hanlon, RSC Director of Education lead a panel on the huge potential of educational technology collaborations with the cultural sector, highlighting their new work with the RSC.
The broadcasts which are led by students at Ravesbourne's state of the art broadcast studios, start with a live introduction from the studio and include activities for school children to help them engage with the production and get the most from the experience. The play itself is broken up into three parts, rather than the usual two, with further student activities between each section and live Q&As with actors from the company. Throughout the broadcast schools can use Twitter or the special message function on the broadcast site to suggest questions for the actors.
Image: 'RSC King Lear Broadcast Students' courtesy of Ravensbourne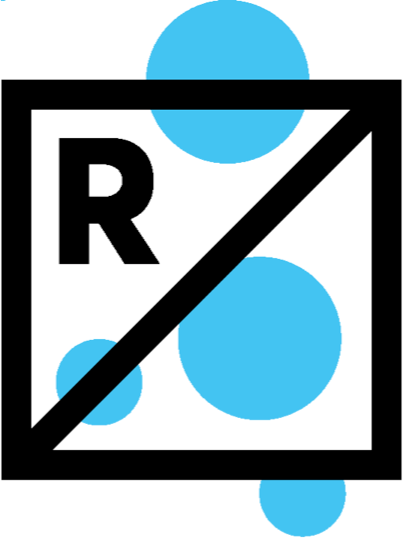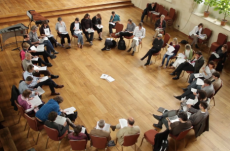 Artistic purpose in a fractured society
This is an interactive studio session, based on a provocation paper and designed to stimulate exchange and fresh thinking about the power of the performing arts in contemporary societies, and the implications for professional education and training of artists.
In 1965, Britain's first Arts Minister Jennie Lee wrote:

In any civilised community the arts and associated amenities, serious or comic, light or demanding, must occupy a central place. Their enjoyment should not be regarded as something remote from everyday life. (Lee 1965, 6)
Over half a century later and into the next millennium, she might well have imagined she would see the arts embedded and thriving within all UK communities. Sadly, this vision remains to be realized, although the arts themselves are able to cross so many borders, and constitute thoroughly international industries. Indeed, as we experience situations of increasing complexity, unpredictability and social fracture, the arts if anything occupy a more marginal place within our societies at home.
We are struggling with our relationship to the arts. We may know deep down that they are essential to who we are and to our well being, but we are disconnecting from them. Too often, they are being positioned as entertainment, their status largely "icing on the cake". Or, democratised through digital revolution, the experience of the arts is distancing people from the core of human interaction that these disciplines are about.
All of course is not doom and gloom for the arts. We don't have to look far for statistics that laud the contribution of the creative industries: But at stake here is a bigger question – actually what is needed to create cohesive and sustainable communities in our contemporary world, and where do the arts feature in this? For those of us who believe that the arts provide a deep root to help find our way through the bewildering maize of contemporary life and its many paradoxes, there then come important questions about the artistic activism needed to enable a paradigm shift in how our societies engage in the arts at all levels. Furthermore, the education and training of the next generations of professional artists becomes critical. This ultimately becomes the focus of the session.
Once you sign up to come to the session, you will receive a copy of the provocation paper. This comes from a book currently being made about the future of the performing arts in society and the place that the professional education and training of artists can play in this. I am hoping that participants will read it before the session, but it will also be introduced briefly at the beginning of the session to kick off the studio collaborative discussion.
Lead by: Helena Gaunt and Susannah Henry (Guildhall School of Music and Drama)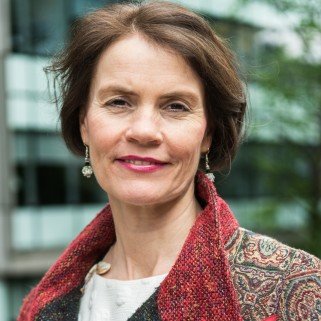 Helena Gaunt
PhD, MBA (Distinction), LGMS(PCS), BA Hons (Cantab), FGS, FRSA
Professor Helena Gaunt is Vice Principal and Director of Academic Affairs at the Guildhall School of Music & Drama, providing strategic leadership in academic development, research, enterprise and internationalisation. She is a National Teaching Fellow (2009) and Principal Fellow of the Higher Education Academy.
Having been a professional oboist and member of the Britten Sinfonia, she has more recently developed research expertise and has published widely. Current interests focus on ensemble practices in the performing and fine arts, creative entrepreneurship, and the potential for the arts to contribute to education and development practices more widely. Helena is the Chair of the Innovative Conservatoire (ICON) partnership, providing pioneering professional development internationally for conservatoire teachers.
Image Credits: Sarah Hickson / courtesy of Guildhall School of Music & Drama
Impossible Partnerships: The Gig Economy, Zero Hours Working in the Arts and Academia
The Culture Capital Exchange, in collaboration with Royal Central School of Speech and Drama, invites you to a roundtable discussion on 'The Gig Economy – Zero Hours Working in the Arts and Academia'.
The Gig Economy has been in the spotlight recently with companies such as Uber, Deliveroo, Taskrabbit, and Amazon all coming under scrutiny for their treatment of their employees. Questions of diminished workers' rights, exploitation, and the impacts of these features of precarious employment on social cohesion and individual well-being are therefore increasingly pertinent. Meanwhile, the Gig Economy continues to affect and displace existing models of employment by undercutting their costs and/or availability, a trend that shows no sign of abating.
Following a widely recognised 'social turn' in the discipline of Theatre and Performance Studies, recent work has explored relationships between theatre, labour and employment from a variety of perspectives. This session will seek to expand the interdisciplinary scope of this research by exploring a range of intersections between performance and work suggested by the phenomenon of the Gig Economy:
How is the Gig Economy altering our understanding of work, its value, its politics, and re-shaping our experience of, for instance, time and temporality?
What can be learned about the Gig Economy from the work of performers (whose income and working conditions have long been precarious) and/or representations of labour in performance?
Are there ways of using performance to reframe what we think of as 'Work'?
If we could, what changes to policy would we make?
Should we accept/encourage/resist The Gig Economy in academia? If so how?
We aim to involve a variety of interested individuals who are enthusiastic about this area of research and who are keen to form a cross-disciplinary network to talk about it.
This Impossible Partnership will be led by Dr Tom Cornford, Lecturer in Theatre and Performance at Royal Central and Lydia Fraser-Ward, Creative Director at Fantasy High Street. This gathering will be of interest to early career researchers, theatre practitioners, artists, sociologists, anthropologists, film-makers, neuroscientists, economists, policy-makers, or anyone who feels that this topic deserves more consideration.
Want to know more about this topic? Have a look at these articles: Researchers as Resource, Risk Shift and The Gig Economy, Universities Accused of Importing 'Sports Direct' Model for Lecturers' Pay.
Impossible Partnerships: a series of small-scale, informal, convivial meetings, developed and curated by TCCE to boost the collaborative potential of projects and topics, in order to support new networks between research and the creative sectors. Throughout the year, we map common trends among researchers and entrepreneurs, tackling topics from a variety of angles. As a result, an aggregate of collaborative networks will thrive, develop across institutions, and reach out beyond the academy.
We look forward to seeing you,
Dr. Enrico Bertelli, Neal Cahoon TCCE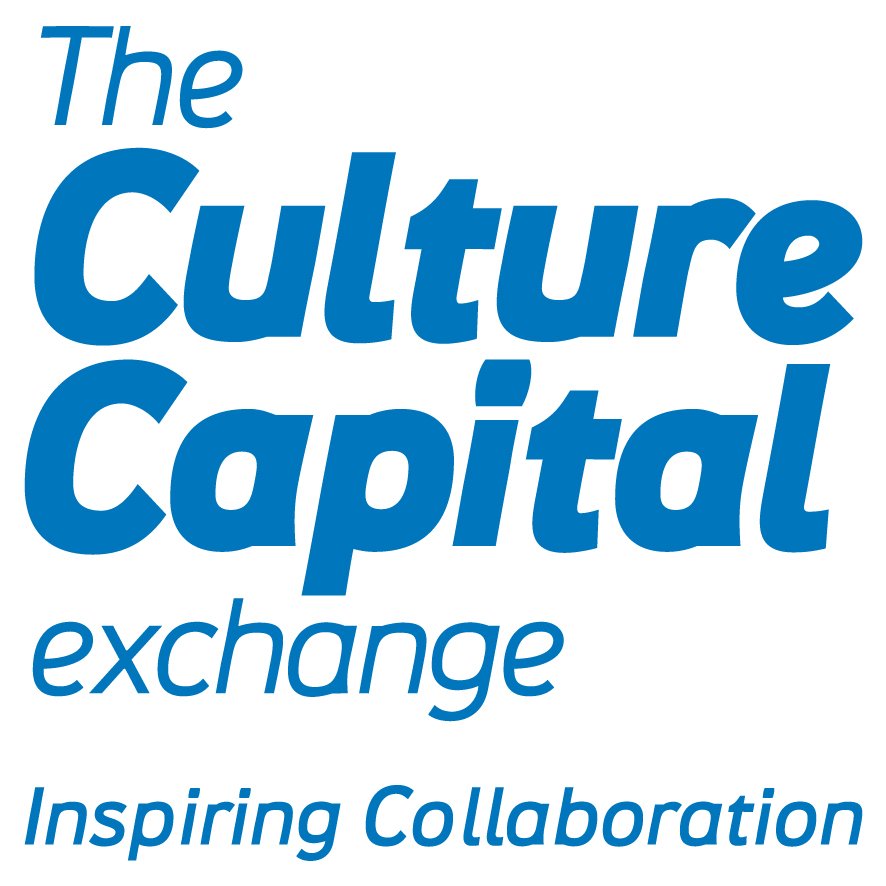 1247 days on Whymark Avenue
This short film was created from a sequence of 1247 photographs taken in the same urban neighbourhood in North London over a period of 42 months. Photographs were taken daily from the same position, with a constant frame. Edited together, and viewed as a continuously moving image, they show the life of the site over time, at the rate of one frame per day – three years condensed into a little over three minutes. The image series is backed with a selection of site recorded sound from the same period.
This film is part of a larger research project on the longitudinal documentation of urban sites. The project uses repeat photography to study street art and graffiti as visual dialogue. Capturing these ephemeral forms of visual communication as they appear and disappear over time gives us a unique insight into graffiti and street art's existence within a field of social interaction – as a form of democratic conversation on urban walls.

Susan Hansen, Middlesex University London
Susan Hansen coordinates the Visual Methods Group, and is the Chair of the Forensic Psychology Research Group, at Middlesex University, London. She has a background in Social Psychology, Communication Studies, and Art History. Her research explores communities' material engagements with, and affective responses to urban environments; the analysis of graffiti as a form of visual dialogue; and the promise of an archaeological approach to understanding street art and graffiti through the longitudinal photo documentation (or repeat photography) of single sites.
Susan would like to thank Danny Flynn (London Metropolitan University) for his invaluable contribution earlier in the project.
Image © Susan Hansen
Collidoscope ++
Join Hazar Emre Tez to sample Collidoscope – everyone welcome!
Collidoscope++ is a collaborative music instrument that allows people to make music together by enabling them to record sounds and explore these bits of sounds in an interactive way. It is designed to be explored in collaboration, and up to four participants can simultaneously collaborate as explorers, sound designers and performers. Anybody can walk up and freely play it with anybody else around to jam with each other or challenge each other in creative ways.
Participants do not need to have experience in music. Playing this instrument is absolutely fun and interesting for anybody from novice to expert.
I am altering the design features of the original Collidoscope by adding features to enable players to share and exchange audio bits in different interactive ways. I aim to learn more about music collaboration and design a more in-depth study with the help of this exhibition.

Folk music composed by a computer!?
Folk music, by its nature, involves folks. So it's absurd to think a computer can compose such music. This unique event – part presentation, concert and workshop – shows how it's not absurd at all!
Our international research and creative team has been applying methods of "machine learning" to modeling folk music – specifically, tens of thousands of "Celtic" tunes typically played in pubs and festivals around Ireland, France and the UK. The result is a computer program that can generate an endless number of tunes. With human interpretation, these tunes can become music sharing a surprising number of qualities with "genuine" folk music.
This event kicks off with a fun presentation about what "machine learning" is, and how we are applying it to compose music. Then there will be a short concert of music played by master musicians, who will weave together traditional tunes with computer-generated ones.
Will you be able to tell which is which? Then the musicians will lead a workshop for attendees who bring their own instruments to learn to play, one phrase at a time, a computer-generated tune.
We will finish with a discussion and question and answer session.
Bob L. Sturm
(Lecturer in Digital Media/ Deputy Director MAT, Queen Mary University of London)
Bob specialises in engineering and evaluating computer systems that can listen to and make sense of sound and music.
Oded Ben-Tal
(Senior Lecturer in Music Composition, Kingston University)
Oded is a composer and researcher working at the intersection of music, computing, and cognition.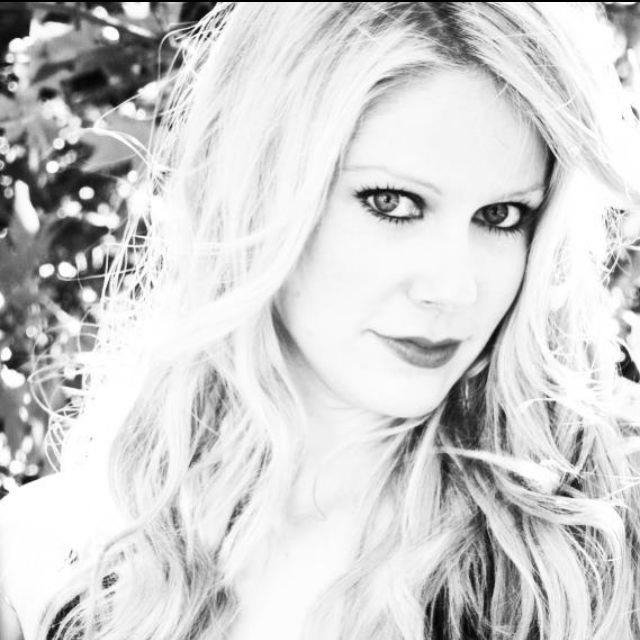 Eimear McGeown
(flute/whistles)
A First Class Honours graduate from the Trinity College of Music, London, the Irish flautist, Eimear McGeown, has established a busy and varied career both classically and on the Traditional Irish flute. She has appeared as a soloist in North and South America, South Korea, Japan, The Philippines and throughout Europe. Two of her most notable performances have been on BBC's Last Night of the Proms and the World Premiere of Dave Morris' Concerto in the Library of Congress in Washington DC. She has recorded with numerous artists on albums for Decca, Universal and Chandos, and played on BBC Radio, Classic FM and RTE Lyric FM.
On the Irish flute, she holds two All Ireland titles and has released a Celtic EP. She has recorded on two of Barry Douglas' Celtic albums, which both feature several of her own compositions.  Eimear has played in London's West End hit, Lord of the Rings, and is a member of Irish Memory Orchestra, who recently performed at the Sori International Music Festival in South Korea.  She's also active in the Pop music scene, playing with X Factor winner Matt Cardle on the National Television Awards, and supporting The Pogues in the Echo Arena, Liverpool.
"Eimear McGeown on Irish flutes sounded expert, bending notes in ways I have never heard before." (Washington Post)
"McGeown's performance was a dazzling display of flute virtuosity" (Belfast Telegraph)
"McGeown, for whose wide-ranging talents this was written, made it's loose agenda of contemporary and traditional styles surprisingly persuasive" (Irish Times)
Tad Sargent (bouzouki)
Tad Sargent is a London born musician, whose family roots originate in Castlebar, County Mayo. His musical journey began with the piano, and in 2002 led to the bodhrán (Irish drum), after re-discovering his childhood passion for traditional Irish music. His education in Irish music evolved through many years of playing at Irish sessions, run by living legends such as banjo player, Mick O'Connor.  He later picked up the bouzouki, and now enjoys great demand as a multi-instrumental Irish accompanist.
Tad has performed and recorded with leading musicians and groups such as Luke Daniels, Sylvain Barou and Cara Dillon.  He released an album with pop legend Tony Christie (Amarillo fame) in 2015, as a member of Ranagri, and also plays with CrossHarbour, who released a critically acclaimed album in 2014. He's currently working with virtuosic uilleann piper Loïc Bléjean, with whom he released an album in Autumn 2016.
Tad has played throughout Europe, USA, and at many of the top venues and festivals around the UK, including the Albert Hall, Glastonbury Festival and Cambridge Folk Festival.  His playing can be heard on recordings and film soundtracks, including Burke and Hare, (2010, dir. John Landis), Barule's album, Mananans Cloak, and Tony Christie's album The Great Irish Song Book.  He has performed on BBC TV and radio, and makes regular media appearances in the UK and Europe.  Tad is the resident bodhrán and Irish music accompaniment tutor at the Irish Cultural Centre in Hammersmith.
Daren Banarsë
(wooden melodica)
Born in London, of Irish and Indian parents, Daren Banarsë studied classical piano at Trinity College of Music. He went on to teach himself composition, with the aim of writing for TV, under the pseudonym Troy Banarzi.  After a lucky break with music agency, Inter Angel, he soon became established as a leading media composer, with recordings featuring on hundreds of TV shows and adverts, including The Apprentice, Top Gear, and Horizon.
An interest in the contemporary arts drew him back to college, this time as a postgraduate, studying experimental composition. Here, he worked on his first multi-media composition, Euphonika, part broadcast on Channel 4, and funded by the Arts Council. More works followed, including musical sculptures for the Courtauld Institute of Art, and performances at Tate Britain and the Hayward Gallery.  In 2009 he collaborated with sound artist, Scanner; performed his large-scale Requiem for the Missing at Somerset House; and wrote an orchestral piece for the Rambert Dance Company. The following year he joined the faculty of Goldsmiths College, University of London, teaching composition.
For the last decade, Daren has been drawn back to the traditional music of Ireland, where he spent much of his youth.  He is now a regular player at London's Irish music sessions, and specialises in composing and recording compositions at the intersection of classical and folk music.
Supported by AHRC
Image credits: Main promotional image by Bob L Sturm
Tad Sargent photograph: Matthew North 
Daren Banarsë photograph: Eleonore de Bonneval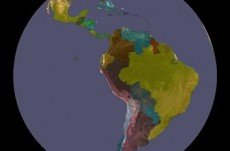 Latin American Cool: Bodies, Words, Sites
This event examines the idea of 'cool' and how it manifests in the forms of dance, philosophy, and poetry in Latin America. The 'aesthetics of cool' has historically specific affiliations to black American expressive culture, so what happens when that becomes a lens through which to examine how it manifests in different geographical spaces and places?
In this lecture performance we will endeavour to set up a 'cool space' of interaction informed by the aesthetic practices of 'coolness' from a Latin American cultural perspective. Ultimately what we endeavour to produce in this lecture performance is a way to think about aesthetics from a decolonial position. This means that we are thinking of what makes art and performance practices 'beautiful,' 'meaningful,' or 'cool' outside of European contexts.
We will be sharing personal experience, theoretical knowledge along with audio-visual examples of what we think is 'cool' about Latin American culture practices. If you have an interest in Latin American dance, culture but would like a more critical perspective from which to be able to engage and enjoy it we invite you to be 'cool' with us.
Event led by:

Dr Melissa Blanco Borelli, Royal Holloway University of London
and
Dr Anamaría Tamayo Duque, Loughborough University

Image: Wikicommons, Creative Commons Licence